FALL CLASSES & COVID PRECAUTIONS
————————————————————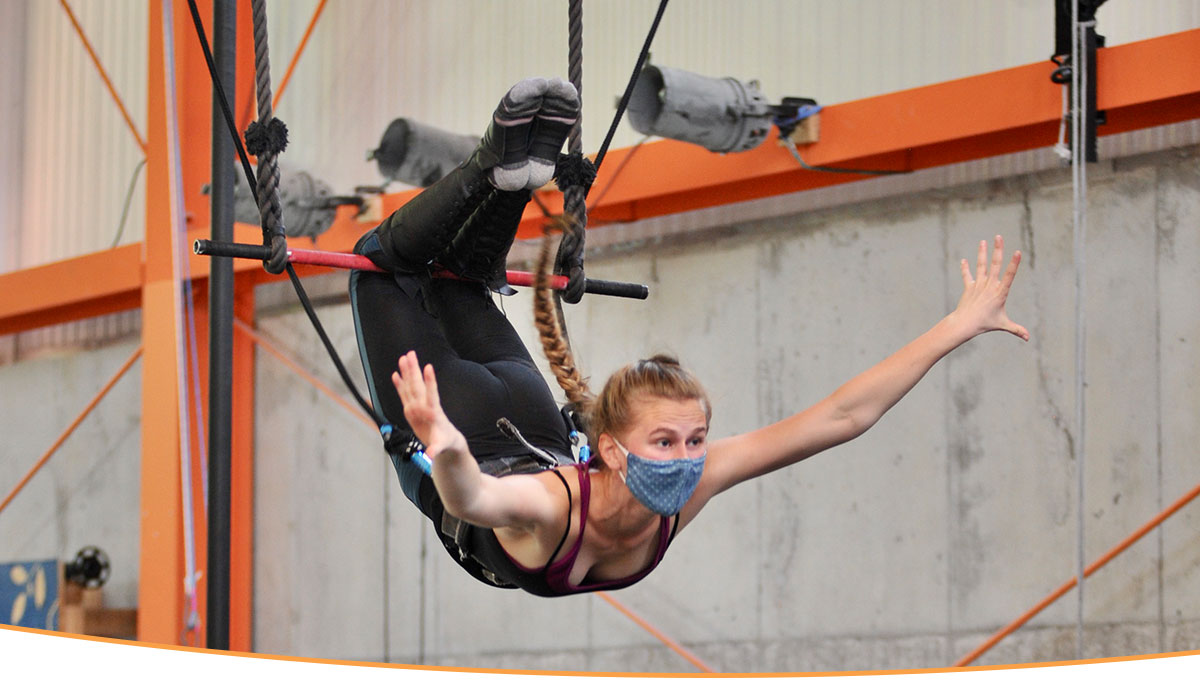 Hello to NECCA friends and family, near and far! We hope that you are safe and healthy wherever you are during this continued strange time. Fall is approaching and many of you are busy planning school schedules and finding ways to make your "new normal" feel more, well… normal. We are right there with you and as we venture tentatively ahead we wanted to let you know what's happening in the space and all the ways that you can stay connected and venture back into your circus training.
FALL SESSION CLASSES
————————————————————
Move your body. Ease your mind!
Fall classes are now open for limited enrollment. Don't forget to schedule yourself some time to play, get creative, and move your body again as you plan your fall and bring the fitness and fun of circus back into your routine! We are offering two separate sessions to make it easier for students and families to plan. But don't wait as space is very limited!
Classes for all abilities and all ages available. Fall I: Sept 8 (Tues) – Oct 25 (7 weeks) Fall II: Oct 26 – Dec 20 (7 weeks) (no class Nov 23-29)
If you have any questions about all of the ways that we are working to keep you safe in the space, please email us (mailto:info@necenterforcircusarts.com?subject=Fall%20Session%20-%20COVID%20protocols) ! We would be happy to share our protocols and answer any questions you may have.
FALL SESSION INFORMATION (https://necenterforcircusarts.org/training/adult-session-classes/)

RESERVED TRAINING
————————————————————
We have modified our members only and open studio training options to create a new way for you to access the space and equipment you need for your training. Approved advanced students and circus professionals can request a dedicated "Reserved Training" time in 2-hour increments. You will be given a designated spot according to your needs and plenty of space to train at a distance from other people. Participants are subjected to the same health screening, extensive safety protocols, and contact tracing as all other programs at NECCA.
RESERVED TRAINING (https://necenterforcircusarts.org/reserved-training/)

VIRTUAL TRAINING
————————————————————
Are you enjoying your new virtual classes or wanting to learn something new from a distance? Great! These have been such a hit, we've decided to keep them going indefinitely! Students are gaining skills, trying new things, and getting personalized feedback, all from the comfort of their own living room! Try a group class or sign up for a one-on-one session to work with your schedule!
VIRTUAL CLASSES (https://necenterforcircusarts.org/training/virtual-circus-classes/)

COMMUNITY GARDEN
————————————————————
We are thrilled to announce that our community garden has been planted! We already have little peppers, big cucumbers, and fresh salad greens to share with you and this is just the beginning. Our two garden boxes are a great place to get your hands in the dirt, help something to grow, and find a little nourishment. If you have ideas for things you'd like to grow here (even just to learn more about how something grows) or would like to help with watering and weeding the garden, please reach out to Jenna at jciotta@necenterforcircusarts.com  . We look forward to expanding this project in ways that are guided by YOU, so thank you in advance for your energy and ideas!
See you soon!
————————————————————
Whether it is in person from behind a mask, or virtually over zoom, we hope to see you and catch up with how you are doing soon! Wishing you health and happiness from everyone here at NECCA.
https://necenterforcircusarts.org/wp-content/uploads/2021/01/08-2-NECCA-Newsletter-Featured_Images.jpg
696
1200
Erika Radcliffe
https://necenterforcircusarts.org/wp-content/uploads/2018/12/NECCA-Black_Logo.png
Erika Radcliffe
2020-08-20 19:22:32
2022-03-31 18:01:45
August 2020 – Updates